NRVIA Certified Level 2 RV Inspector Chris Magistri
Your One-Stop RV Service Provider

Client-Driven RV Inspector
Chris Magistri is the owner/operator of WorryFree RV Services. As a long-time RV owner and enthusiast, he knows how rewarding RV adventures can be. At the same time, he's also aware of the many potential pitfalls that new buyers and owners may face. That's why he began offering his many years of experience to RV buyers, sellers, and owners in early 2017.  
Chris' credentials include:
NRVIA Certified RV Inspector #1681
RDVA/RVIA Certified RV Service Technician
Adheres to NRVIA's Code of Ethics and Standards of Practice  
A Lifetime of Outdoor Adventures
Chris developed his love of the Great Outdoors as a young child. His family frequently went camping, which inspired him and his wife to buy their first pop-up camper at the tender age of 20. It was important to Chris that they instill their son with a love of camping. In what he has since dubbed a "beautiful disaster," the family's first trip showed them just how much they didn't know about campers and RVs. Determined to learn, the family stuck with it and soon went on their next adventure.
Since those early days, Chris and his wife have enjoyed the road in many different campers. They even made the road their home for many years in a Winnebago. A handy self-starter, Chris quickly learned how to repair any issues that arose in their RVs, just as he did with their homes, boats, and vehicles.  

Previous Professional Experiences
Aside from his extensive experience with RVs, Chris has also worked in many other industries. These varied environments taught him how to best provide service to people from all walks of life. Many of these industries also created a vital bedrock for his preferred career as an RV inspector and repair technician.
Chris' very diverse career path started in commercial printing, where he spent several years learning everything there is to know about running very large printing presses. Chris briefly worked in sales where he learned to focus on customer service and satisfaction before moving into commercial truck driving with his Class A driver's license.
He then returned to the classroom where he earned an associate's degree in Addiction Counseling and went on to earn his bachelor's degree in Human Service with a minor in Criminal Justice, graduating summa cum laude. This led Chris into addiction counseling as well as case management. Additionally, Chris started a property maintenance company and found he loved running his own small business.
When a very abrupt health scare caused Chris and his wife to rethink everything in their lives, they both left their jobs, sold the business, and hit the road to explore the country. Chris started Workamping to help fund their travel and found himself doing campground maintenance and even security. Today he has taken all of his experience into a business he loves and uses the lessons he has learned to help others find their road to adventure.
Off the Clock with Chris
The Magistri family currently lives at the beach, and they love spending as much of their free time as possible in and on the water. Chris' top recreational activities include fishing, camping, and motorcycles. He also enjoys visiting other RV friends that the family met while living on the road.
WorryFree RV Inspections Service Area
Whether you're looking for your dream RV or need an emergency service repair, we can help! Our service area includes:
Southern Alabama – All of Baldwin County and Mobile.
Southern Mississippi
Florida's Western Panhandle – Escambia County, Santa Rosa County, Okaloosa County, and Walton County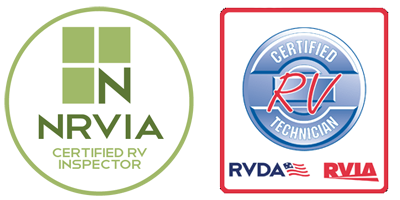 CONTACT US
CALL:
TEXT:
EMAIL: